24
Jan 11
A few months ago, I came across this video. To sum it up very briefly – This is a talk by author Elizabeth Gilbert. She speaks of how artists in general have a reputation for experiencing mental and emotional anguish throughout their lives and careers. Depression, mental illness, et cetera. That whole notion of a "tortured artist." Elizabeth questions these paradigms and she offers a suggestion as to how we artists can separate ourselves from the overwhelming emotions and states of negativity that go along with our creative work. Divine muses, is her solution.
In previous times throughout the world, the work of artists was seen as a collaborative effort between the individual artist and a separate, invisible entity. The divine muse of creativity. The genius. The fairy. God. These are all names that could be given to that ethereal energy. A divine muse of creativity is simply the notion that you are not creating your art, your music, your poetry, on your own. There is an invisible force guiding you. Inspiring you.
As I listened to Elizabeth Gilbert explain all of this in her talk, I instantly and completely related to it. I'm sure all of you artists and creative types have felt it before. That sense of grandeur. That need to create, that you can't quite control or can't even quite make sense of. As if God or something like it is whispering the secrets of the universe to you. That sense of feeling so much beauty within yourself and seeing worlds inside your mind that you are trying to make real. It wasn't until I saw this video that I realised this was the feeling I've had all along. I never thoroughly thought about it enough to give it a name.
Looking back through some of my old writing, I found so many examples of the times I wrote about the creative muse. Trying to make sense of that very notion:
"It's like I'm constantly trying to grasp fragile things. Curious fingertips, invisible sea-ships, traversing oceans of energy. I can't touch fragility, just its static electricity.

Trying to make sense out of invisible things; it's strange."
"I feel beauty all of the time. I always acquire universal truths and that sage-like spiritual knowledge. It comes in flashes of lightning. It faintly thunders within me on and off. It always builds up, leads to momentary outpours. No, it never lasts. & You'll find these feelings anywhere. Everywhere. The thing is, there's always that pain that comes along with it. Sad smiles. Bittersweet, delicious heart-hurting. I think the problem (for artists, at least) is that we are trying to capture that beauty. We are trying to catch God's lightning-darts with our bare hands. Trying to contain it and make it last forever. Trying to share it. Trying to make others feel it and understand it as we understood it. It takes so much mental and emotional energy to do what we do. But the moments that we do it, that's worth all of the pain."
I found that I actually was referring to my divine muse, in the past, without even consciously realising it:
"This sense of perpetual melancholy is something I've grown to love. A friend beside me. Not me. But she's always there. Her hair is dark and waves like a murky, dying ocean. She wears a flower halo of crunchy, brown roses. Sprinkling bits of her broken flowers everywhere she goes. Like sad magic & dysfunctional faery dust. She is so beautiful. So terrible."
Along with the beauty and sense of awe and wonder in art, there's always that pain. I've found that I often feel more compelled to write or create when I am in a sad or sour mood. I would even go so far as to say I thought my work was actually
better
when I would create it during those sour moods. Regardless of whether that may or may not be true, it's still completely overwhelming for one to live their life in such a way. Almost
needing
to be sad, negative, or angry in order to create. But this idea of a creative muse instantly releases that tension. If we were to begin thinking about it in this light, then there is no longer a need to hold onto that negativity. We can see it for what it is. Our sadness and bouts of near-insanity don't have to be who we are,
all of the time
. It's a fleeting muse, simply there for us to observe and make use of, but to let go of when our work is complete.

It feels as if we are sometimes haunted by our muses. They tend to hang around much longer than they are needed. I know, for sure, this is what always happens to me. The sad muse of my creativity doesn't know when to leave. My perpetual melancholy. My murky-ocean hair girl, I decided to send her a letter to let her know that she's outstayed her welcome: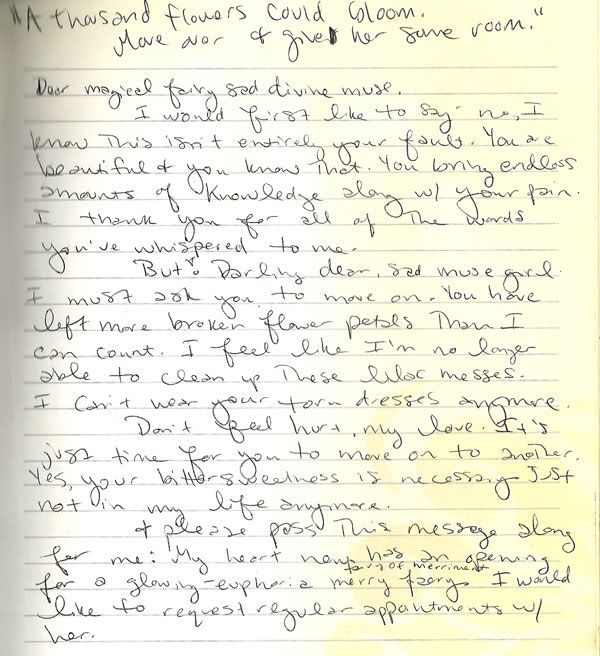 So I wrote my sad, divine muse that letter. & You know what? She hasn't come around quite as often.