26
Dec 10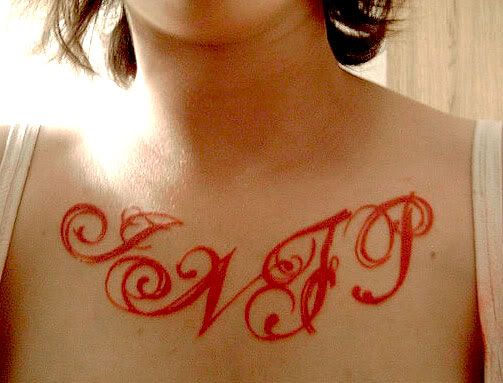 Gorgeous INFP tattoo belonging to the53rdcalypso @ flickr

This is a blog entry that I've been meaning to write for months, but haven't built up the courage to do it until now. Why? Well, lots of reasons. Mostly my insecurity and constant self-doubting holding me back. But also the fact that I have so much on my mind about this subject, that I'm not even sure where to begin. (Hence this being just part 1 – I'm certain that I'll be writing more entries on this topic in the future.) But before I begin, I'd just like to mention – I may ramble on and on. I may go off-topic. Please bear with me. I think I only know how to tell stories imperfectly, in a scatter-brained manner.
So where do I begin? Well, ok. Ever since I was about 12, I've had this notion in my head that I am not like normal people. I know that everyone feels like this to certain degrees, at different points in their life – Feeling misunderstood. Feeling like a loner. For the majority of my life, though, I have honestly felt so different, and not entirely sure
why
, that it made me certain that I must have some sort of mental illness.
It's really hard to fully explain all of the aspects that made me feel this way. I just honestly felt like my brain or soul or
something
was not like normal people. So throughout the years, I've casually researched various mental disorders, in an effort to figure myself out. Here is my (honest to God! lol) list of mental illnesses/disorders/etc that, in the past, I have thought I might have: manic depression, anxiety/panic attacks, ocd (or some form of it?), tourette's (the nervous tics, not the vocal ones), schizotypal disorder, avoidant personality disorder, depression, some form of schizophrenia, "highly sensitive person." I'm not even sure if this covers -everything- I've thought I had. Ha.
Parts of all of these suited me to certain degrees, but nothing seemed entirely right. Also, a part of me was telling myself, "If you're sane enough to think that you're crazy, then how can you actually be crazy?" So I kept searching. Then, I reached a point a few months ago, that I think was the closest thing to a nervous breakdown that I've ever had. I can only theorise why this happened. But my best guess is that it was a cumulation of a few things affecting me in my life. Events and circumstances that got so heavy on my mind, I couldn't bear the weight of it all any longer. My mother died in March. To paraphrase an acquaintance of mine who also lost her mother this year, "It's the saddest thing – having to miss someone for the rest of your life."
Another circumstance which got too heavy on my mind was, strangely, a new creative endeavour I was trying to pursue. I mentioned previously on my blog that my boyfriend and I are collaborating on a comic book. I have learned it to be the absolute truth, what other writers say, how starting your book is the hardest part. Coming up with a decent plot, characters, dialogue, et cetera is hard enough, but my biggest issue in the writing process was actually myself! Every day, my mind was plagued with doubts – "Am I a good enough writer? Can I even write a whole, entire story? Will it be coherent? What if I truly am so crazy that whatever I write will make absolutely no sense?" All of this self-doubting threw me into that loop once again of – Why am I not like normal people? What is wrong with me? Despite my possible nervous breakdown-ish episode that I experienced because of these stresses, I trudged on. I still continued my routine of writing every day.
While looking through some of my old notebooks for any kind of literary ideas I could grasp, I found the results from a personality test that I took in college. I remembered being in my class, taking the test. Meyers-Briggs Type Indicator, it was called. After all of the tests were completed and scored, my teacher passed back the results, reading everyone's personality type aloud. When he got to mine, he just stopped and looked at it. Moreso quietly speaking to himself, he said, "Wow. You never see types like that. That's so interesting." and he handed me my paper. It said I was an INFP.
The results simply came with a sheet that had just one tiny paragraph description for each of the types. Sixteen types in all. While mine did, indeed, sound like me, I didn't think much about it again. It was just one little succinct paragraph on a paper that I forgot about entirely.
But here I was, years later, with this paper again. In the midst of all of my overwhelming, on and off again, emotional and mental turmoil, I decided to look further into this INFP thing. In a continued effort of finding myself. Figuring myself out. Well, first of all, I looked for an online version of the MBTI test. I wanted to re-take the test to see if my result would be the same. And it was. INFP once again. This time, though, I was given a much more thorough description as to what the INFP personality type was all about. I am not even exaggerating when I say – this was a life-changing experience. Not only did this INFP personality type perfectly describe me, but the description also listed every single aspect about myself that made me think I was mentally ill. Here are just a few examples of some things I've read in various descriptions of the INFP personality:
"INFPs are highly intuitive about people. They rely heavily on their intuitions to guide them, and use their discoveries to constantly search for value in life. They are on a continuous mission to find the truth and meaning underlying things." (source)
"INFPs never seem to lose their sense of wonder. One might say they see life through rose-colored glasses. It's as though they live at the edge of a looking-glassworld where mundane objects come to life, where flora and fauna take on near-human qualities." (source)
"creative, smart, idealist, loner, attracted to sad things, disorganized, avoidant, can be overwhelmed by unpleasant feelings…" (source)
"An INFP may show some or all of the following weaknesses in varying degrees:
May be extremely sensitive to any kind of criticism
May perceive criticism where none was intended
May have skewed or unrealistic ideas about reality
May be unable to acknowledge or hear anything that goes against their personal ideas and opinions
May blame their problems on other people, seeing themselves as victims who are treated unfairly
May have great anger, and show this anger with rash outpourings of bad temper
May be unaware of appropriate social behavior
May be oblivious to their personal appearance, or to appropriate dress
May come across as eccentric, or perhaps even generally strange to others, without being aware of it
May be unable to see or understand anyone else's point of view
May value their own opinions and feelings far above others
May be unaware of how their behavior affects others
May be oblivious to other people's need
May feel overwhelmed with tension and stress when someone expresses disagreement with the INFP, or disapproval of the INFP
May develop strong judgments that are difficult to unseed against people who they perceive have been oppressive or suppressive to them
Under great stress, may obsess about details that are unimportant to the big picture of things
Under stress, may obsessively brood over a problem repeatedly
May have unreasonable expectations of others
May have difficulty maintaining close relationships, due to unreasonable expectations"
(source)
& Finally, I read these two excerpts within various descriptions. Which totally helped me to re-gain confidence in myself and stop worrying about my writing abilities:
"INFPs are usually talented writers. They may be awkward and uncomfortable with expressing themselves verbally, but have a wonderful ability to define and express what they're feeling on paper." (source)
"It's worth mentioning that nearly all of the truly great writers in the world have been INFPs." (source)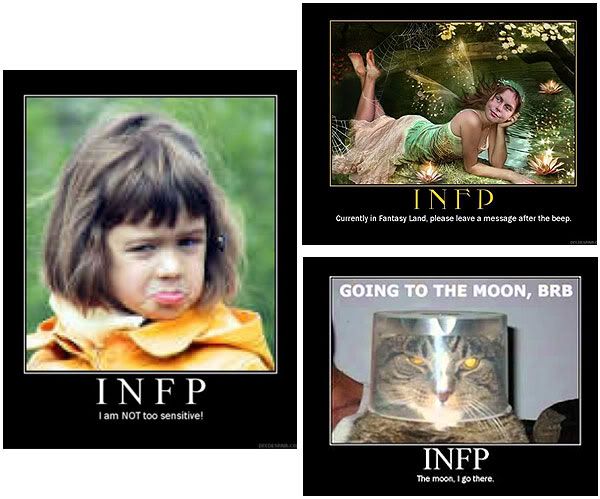 This was all an amazing experience. I finally realised that I am not mentally ill. I am perfectly fine. I am meant to be this way. Discovering more and more about my personality type was actually a freeing experience. I also read that the INFP personality type only accounts for about 2% of the population. Which makes it kind of rare, thus explaining my constant feelings of aloneness. Feeling as if nobody in this world was like me. Now that I know that there is a whole population of people whose minds work exactly the same as mine, it feels as if I've been granted access into an amazing secret society! As of recent, I've actually been frequenting a message board called Personality Cafe where there's a subforum for each of the 16 different personality types. On the INFP board, there's a thread where people are posting introduction videos about themselves and what it's like to be an INFP. After overcoming a bit of fear, I decided to post my own video. And even though this is still a bit terrifying for me, I'm going to also post my video here. Please pardon my awkwardness and excess of emotion towards the end. I'm just your typical INFP, I guess. Haha.


So to anyone else who is on a journey of introspection and self-discovery, I would highly recommend taking the
MBTI test
and finding out what your personality type is all about. It may very well help you in your journey.