17
Mar 11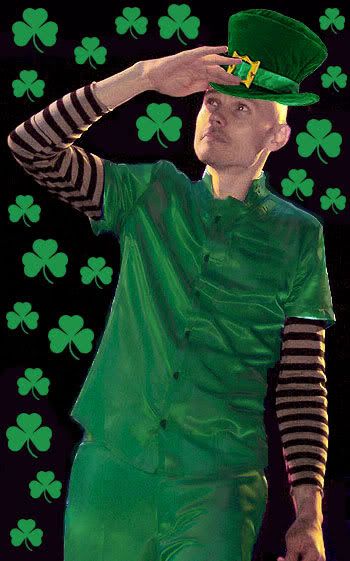 I've been a Smashing Pumpkins fan for 15 years. Billy & I go way back. No, really, you don't understand the extent of my obsession. I am one of those crazy, hardcore fans that has (three!) Smashing Pumpkins tattoos. I'm not exaggerating when I say – their music has been an amazing, life-changing addition to my entire being. So I must make mention that today is William Patrick Corgan's 44th birthday & I wish him a most-splendid day.
Now, as for that ridiculous picture above. That was something that I made with Photoshop in 2007 or so, for my own amusement. It was a photo that I took of Billy when I went to see The Smashing Pumpkins in concert that year. Then, I coloured Billy's outfit green, gave him a leprechaun hat, and shamrocks. (Since his birthday is also St. Patrick's day.) To my amazement, on Billy's birthday in 2007, that silly picture that I made was on the front page of The Smashing Pumpkins official website. It was truly one of the highlights of my life, to see an image that I created (with my name credited along with it) on the front page of my most favourite band's website! .. I am
so mad
that I totally didn't even think to take a screen capture of it to document the occasion. (That version of their website doesn't appear to exist on the internet anymore.)
But anyway! In honour of Billy, here are some videos for you to enjoy:





An acoustic performance of "The Crying Tree of Mercury" .. One of my most favourite, but highly underrated SP songs. This acoustic version of it is amazing.






This is "TheCameraEye" from Billy's solo album. A nice performance featuring the lovely Linda Strawberry doing backing vocals!






A great acoustic version of "Rocket." & The crowd sings along to the entire song. Aw, heart-warming.






A grand performance of "Tear" from the Adore album.



2 Responses to "Happy Birthday, Billy Corgan!"
Penny Says:
March 21st, 2011 at 10:53 am

I like all Smashing Pumpkin radio-songs I've ever heard but I've never actually heard their albums. I bet I would like them a lot. You should post photos of your tattoos.

Jolene Says:
March 21st, 2011 at 9:43 pm

Yes! You should check out their albums. "Mellon Collie" is my favourite, by far.
Leave a Reply