05
Jun 10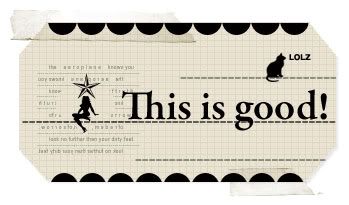 Hi-Fi Dance Party via Project Thirty-Three.
♥ These are some tumblr blogs that I am into, currently: Design Por Vida & Synthetic Pubes & The natural female form & whydoihaveablog & Gazed and Confused.

♥ Totally fascinating & often gorgeous: Forgotten Bookmarks.

♥ I love it when beverages come in beautiful bottles.

♥ I must try making these some time! Here is a recipe for how to make cupcake truffles!

♥ Ooh, fancy! Look at all the pretty, shiny glamor laptop designs.



Photo by sleepersleeper @ livejournal
♥ I googled "binary art" and came across Shinybinary, the portfolio of Nik Ainley. Amazing artwork!

♥ In case you didn't know, Nikola Tesla is awesome.

♥ Fun and responsible! 16 Photoshop tutorials to make you a better designer today!

♥ More design-related goodness; The Current State of Web Design: Trends 2010. & The Death of the Boring Blog Post.

♥ Oh! This sounds fantastic; Neil Patrick Harris, Felicia Day, zombies, guitars. I am so looking forward to playing Rock of the Dead!
Leave a Reply