29
May 11
Last night, on a whim, I decorated my iphone case. I've been wanting to do something about my iphone for quite a while. My case used to have a fabric backing, but it started fraying badly and, eventually, the fabric just fell off completely. So I've been walking around with my iphone in an ugly, naked case for some time. I decided I would collage the case. (Because that's my
thing
, you know!) I had lots of fun doing it. It reminded me of when I was in high school; I would cover all of my notebooks and folders, in a similar fashion, with photos of my most favourite things. Since my new case turned out nicely and was really easy to do, I'm going to give a short, little tutorial on how to decorate yours.
Supplies needed:
- A blank iphone case. (You can either buy a blank one, or wait for the fabric to fall off of yours like I did. Ha.)
- Scissors
- Glue stick
- A bunch of tiny photos, for collaging the case
- A glossy glaze for protecting the pictures after you're done
- A medium, flat paintbrush for use with the glaze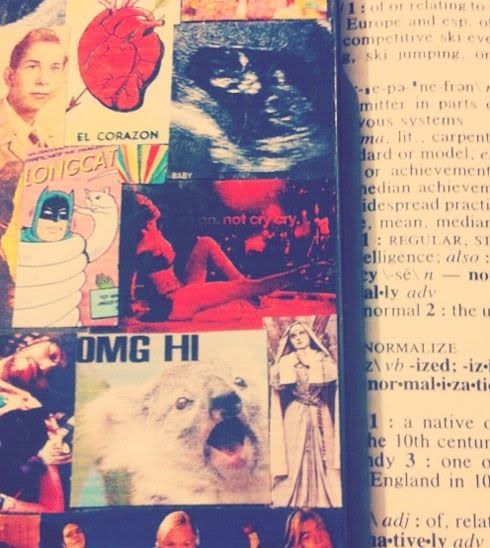 A note before we begin:
As for those tiny pictures, you can collect those anywhere. Find some tiny pictures in a magazine. Or use those little images that come on an index sheet when you get film developed. (Does anyone actually get film developed anymore, though?) There's lots of options for finding tiny photos, but here's what I did specifically: I opened an 8.5×11 document in photoshop and put all of the pictures I wanted in that document, resizing them all until they were small enough. (I didn't do any exact measuring for the pictures. I just resized them until they looked small enough to be suitable for my iphone case.) Oh, and notice how my phone is now kind of reminiscent of a tumblr archive? Well, that's exactly what I did. I opened my tumblr archive and picked my most favourite pictures, or photos that seemed particularly striking. I also gathered some of my favourite personal pictures (Photos of my mom and dad, two photos of my Baby's ultrasounds, a picture of Chadu, and my cats.)

Directions:
- Cut out all of your tiny pictures, if you haven't already. It helps, too, if you have more than you need. You're going to be fitting these pictures together like puzzle pieces, so some shapes and sizes may work better than others.

- Pick a starting spot, and start gluing the pictures on with your gluestick! (Remember, the corners of the case are rounded. So, you'll have to cut some of your pictures to fit.)

- Once you've covered the entire surface with pictures, use the paintbrush and gloss glaze to put a protective, shiny coat over everything.

- Let it dry overnight, then you'll get an awesome, new iphone case in the morning ♥




& Just for fun, here are some more adorned iphones that I came across: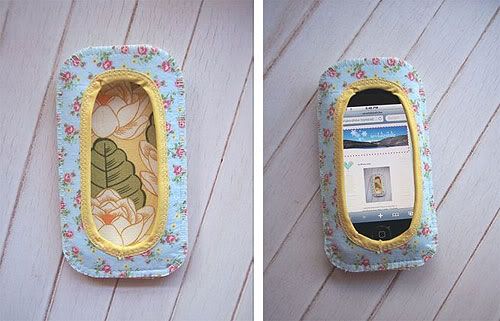 How to make a fabric cover.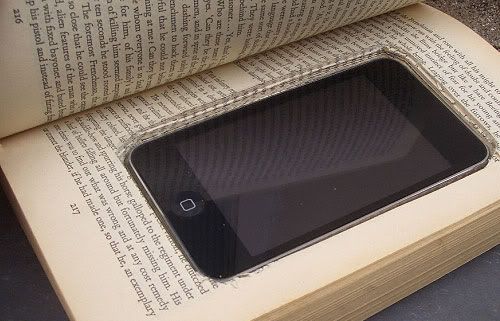 An iphone book case tutorial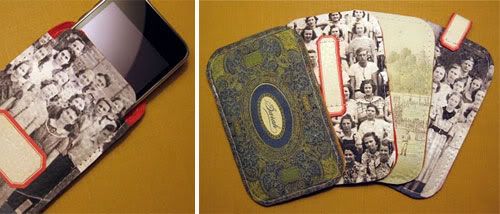 Elegant handmade leather cases how-to




Make an iphone case out of a Moleskine notebook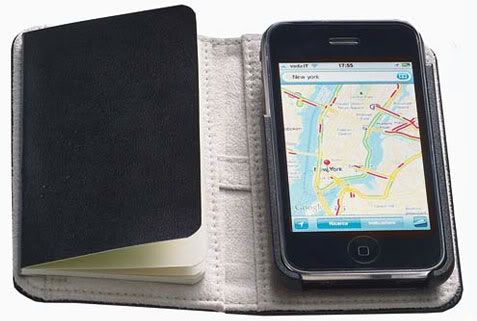 Speaking of moleskines, this one isn't handmade, but I'm so excited to find that there is an official Moleskine iphone case!



Have you decorated your phone? Be it, with stickers, decoupage, or rhinestones. Or sewn your own phone cozy? I'd love to see what you've made!