12
Jul 10


various states of the workspace;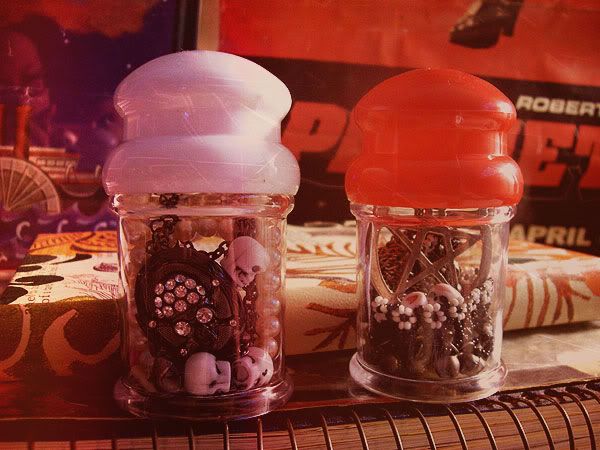 07
Jul 10


Glitter storm;



"Pure charm and grace; she hates her pretty face."
The handsome men in my life;

Smooching my kitty-darling.




Jack wants volumous hair.




Chadu & Jack.



For sale. "Vintage horror love" necklace;

Side 1 of 2.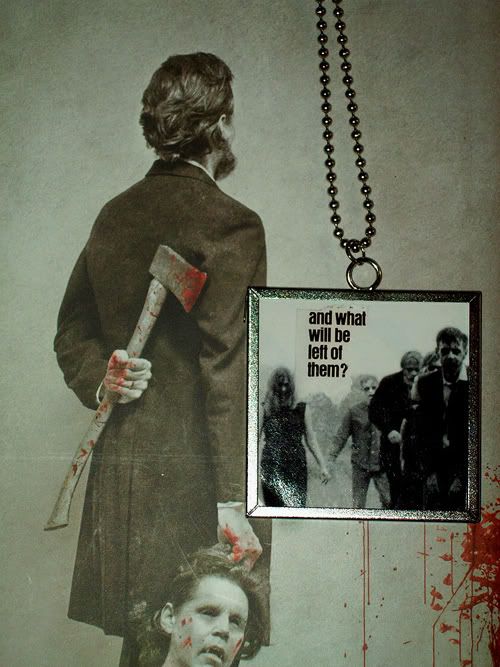 Side 2 of 2.






You can purchase the necklace here.



01
Jul 10
Digital journal; June 30th, 2010.


I heart squirrels;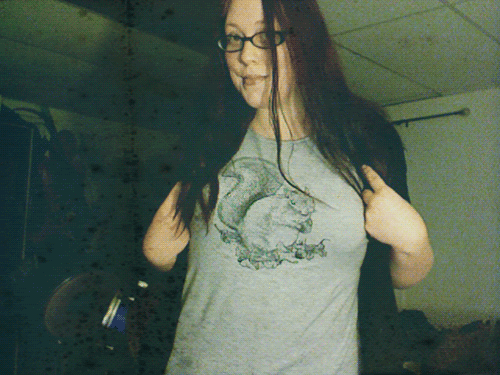 Nocturnals;

& I must share this blog entry by tesslynch. It is brilliant. This absolutely, perfectly describes the way my life is. & I am so pleased to see that there is a whole subculture of us who live like this! Are any of you dearlings a part of the nocturnal ilk? Let me know! We must unite and be secretly eccentric together!


tesslynch wrote:



Some people struggle all their lives to be neat. Some people let their hands creep towards the snacks and then yank them back, all their lives. Some people hate their noses. Some people do drugs. Everybody has a thing. Mine is that I am nocturnal and no matter how many times I wake up early on a bunch of consecutive days, I will always be nocturnal.



"That's a stupid thing to have as 'your thing,'" you say.



I know it is, and that's why I feel ashamed about it. Sometimes when you hang out with your girlfriends, you end up talking about the personal weakness that affects each of you: poor Carly really hates working in marketing but she has no passion. Elaine only dates guys who have been to prison. She'll never learn. Judith has been on a diet since she was four, but she can't stop buying the cheesecake bites in the freezer section. Then it turns to me: I stay up too late. I can't stop staying up too late. The record skips: so what? That's not a big deal. But it is!



My friend, currently in France, said that the only time he stays up as late as I do is when he's in a time zone that is 8 hours ahead of mine. Last night I had to literally rip my book out of my own hands in the bathtub when I saw the first awful rays of sunlight blasting through my window, creating the visual equivalent of a loud voice telling me that I have STAYED UP INTO THE DAY. Again. I get up and sheepishly put on my pajamas and crawl into bed, wondering if I will get in trouble, which of course I won't because I am in my late 20's and almost an entirely credible adult person. Instead of getting in trouble, I get some sort of mild thrill from knowing I am making a bad decision by not going to sleep until 6. Nobody validates this thrill because no one cares, but it makes me feel counter-cultural, because I'm pretty incapable of belonging to a culture that is asleep when I am awake and going about their existence when I'm in a pitch-dark room that resembles a cave at 1 PM ("Don't be a vampire!" "Don't be a mushroom person who turns translucent because they play video games in the dark all the time!" I know).



What's so great about staying up late? Oh, a ton of stuff. First of all, it's quiet and you feel kind of crazy. You wander around the house like you're sneaking through a bank you just broke into. I love how this feels, because your mind completely tricks you into thinking that you're up to something sneaky or interesting when, in fact, you are just creeping around trying to find granola bars somewhere. I definitely do my most fun writing at night, without makeup, a cigarette hanging out of my mouth, thinking of myself as a Bukowski kind of character who just got home from the bar, even though I actually just finished eating some arugula and watching Wife Swap (staying up late, maybe, erases the yuppie inside). Errands and expensive lunches and exercise and cleaning belong to the day. Nervous breakdowns and luxurious bubble baths and stories about a man who is half alpaca and kidnaps kittens from suburban ranch houses belong to the night. Things that are fairly benign carry a stigma when done during the day: drinking two wine spritzers, rolling a joint, hanging upside down like a bat to see how it makes you feel. Diurnally, these activities seem to take the place of more practical duties like washing dishes, but at night they seem perfectly normal. You could do all three at once, hooking yourself up to an IV bag of chardonnay and smoking pot upside-down on a chaise longue in your silk bathrobe and that's just your relaxation routine. Everybody does crazy shit at night: what's nighttime for other than fantasy time? Television, Wikipedia binges, the elaborate midnight snack. Nighttime makes a carnival out of your whole house.



Here is when the tide inevitably turns: you create a counter-culture of one. Slowly, with the passage of seasons and full moons and life picking up and all of that, your up-all-night cohorts graduate to people who do their business in the daytime. "Remember when we used to stay up all night playing Red Dead Redemption?" they sigh. "That was fun. But now I'm going to start setting my alarm for eight so that I can do my laundry and jog a mile and take care of all of this stuff that's fallen by the wayside." And you say, "No!" because the only true downside of being nocturnal is that waking up at noon to realize that things have been accomplished, the coffee made and drained and the cups put away, is that it makes you feel as though you have just found out that all of your friends went to a party, a fun party, and you were bunched up in a ball under four layers of blankets breathing out of your mouth.



Carly says, "Yeah, that must feel kind of bad, but it's nothing like having no passion for any career in existence. Plus, it's so easy to solve. Just wake up earlier."



Judith says, "I wish I had your problem instead. Imagine being so addicted to cheesecake bites that you feel like Ellen Burstyn in Requiem for a Dream!"



If the measure of your destructive passion is how much you love it, I explain, I'm just as bad off as they are. It's easy for me to summon thoughts of a thousand great nights: in college smashing a cigarette into my desk's overflowing ashtray after finishing a paper, I pour myself a glass of wine and dance around for an hour listening to my headphones; in New York when I'm eight, I'm sitting on a radiator pre-dawn watching the snow form little drifts on my window; I'm staying up all night playing scrabble and drinking vodka sodas and talking about the most traumatic things to happen to Elvis; I've brought home Sadie as a tiny puppy and I make tea so I can take her out when the sprinklers are going off all over a dark West Hollywood. I'm driving home from a bar and I stop at Dupar's for pie. I find that I have not seen every single MTV True Life and my hands are shaking from quiet excitement; I decide to eat the rest of that spaghetti and draw pictures of Bo Diddley until I hear the mailman pull up blaring Sugar Ray. Peter has a night shoot and I write a story about a drug-addict murderer, then one about an idiot, then one about a donkey the old farmer has to put down. He comes home at 6 and I'm doing this with a bowl of ice cream topped with everything I could find. I'm lolling around in front of the fireplace, which is still warm and glowing from an earlier fire, unable to find my glasses to look at the stars; I'm reading R.L. Stine with a flashlight, age ten, waiting for my parents to get up and grind coffee beans.



I have a trick for falling asleep, though. I just close my eyes and pretend it's morning.