06
Mar 11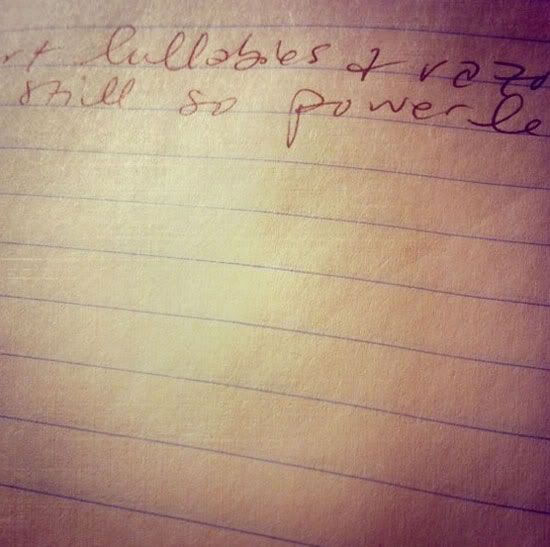 AN OPHELIA-GIRL, SINKING

I jumped ship
the day I was able to reach
the cumulus clouds with my fingertips.

Sun-warmed floorboards under my feet.
The splinter-bread sopping up my half of the ocean.

When you're a sea-hermit girl,
You tend to get these notions.
You start to create these worlds.
Skinned-knees bent,
Toes halfway dipped into brackish emotions.

Singing songs of summer and pain.
Grasping wildly for things you can't touch.

When you see slices of the sky
through strands of hair and seaweed
over your eyes,
You start to develop these lies.
You start to think that the universe belongs to you.
When human beings don't understand,
but the ocean waves do.

(I jumped ship -
I tried my best.
Only gravity beneath my feet,
A thousand birds pummeled into my chest,
Breaking my heart/fall.)




XERG

What element are you made of?
Cast of chrome,
but your kisses taste like copper in my mouth.
Passionate binaries,
(Love is dysfunction.)

If our planets aligned in inferior conjunction,
Could you ever intertwine with my heart-circuitry
and splenetic malfunctions?



ETHEREAL MATHEMATICS

New habits form
As paradigms deform your sense of soul.
There's no way that you can recite the secrets of the universe
Without sounding pretentious.
Not to mention the bother of lost communication.
Solving equations; long division of divinations.
Chicken-scratched answers;
Ink bleeding like spreading cancers.
With all these scabs picked apart,
Birthing new sores,
You have to wonder what you're doing
these ethereal mathematics for.



ANXIETY

Her name is Anxiety
and she runs her fingers through my hair.
Bangles 'round her wrist
shake like little-girl fears.
I hear them jangle
as her fingertips get caught in my hair-tangles.
Her perfume makes me nauseous.
(She smells like nervous birds and highway drives.)
I sit still as stoic statues,
but too self-aware.
Too overly-cautious.
She breathes on my neck and I twitch.
Then I cringe.
I try not to look at her eyes,
Dead-body blue tinged.
She whispers sad soliloquies,
Hums angry hymns.
Speaks of untruths and fleeting whims.
I start to speak up, but she won't hear a word that I say.
It isn't until I turn around to face her,
That she starts to back away.